// Reading Time:
2
minutes
In this sixth episode, we discuss our thoughts and reactions to this year's Gamescom showcase, as well as the Haunted PS1 community EEK3 event. At the halfway point, Bradley quizzes me on how I balance time-to-kill in my games, and we have a quick catch up with the state of our games, Inhuman and Sentry.
Episode 6 – Gamescom and EEK3 2022
The podcast is available on YouTube and can be viewed below. An audio only version is also available on Spotify or downloadable here.
Subjects discussed…
Gamescom 2022
Inhuman catch up
SENTRY catch up
Discussing time to kill
EEK3 2022
Games discussed: The Lords of the Fallen, Lies of P, High on Life, ADACA, Half-Life 2, Inhuman, SENTRY, Mother of Many, Mysteries under Lake Ophelia, Fatum Betula, P.T., Beeknighted, Scissors in Hell, Gob, Ghost Lore, Future Reality Racing League, Agent 64, The Super 1-1 Challenge, Enchain, Lorn's Lure, OverBlood, Nowhere MI, Skull Chainz, Downwell, Vampire Survivors, Canine, Techno Delirium, Moon, LSD Dream Emulator, Loretta, Signalis, Galerians, Fear Effect, Silent Hill
So I finally got around to adding media to the YouTube version of the podcast! I'm rather pleased with the results, though I feel like not opening with video footage may mean viewers don't think we have any at all. This is something we could maybe investigate in the future.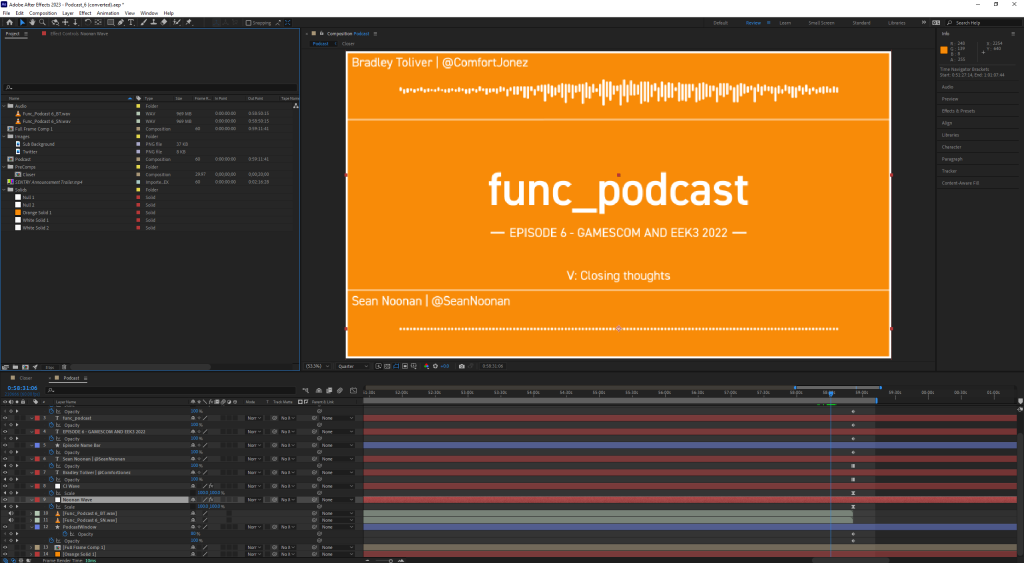 One significant negative to this is the additional time required to produce the video. The template I have created for the func_podcast is relatively robust, but there are some fiddly elements (such as lining up the keyframes towards the end of the video). So I'd like to find a way to smooth this process out a little.
A little confession
I should also point out that I cut some corners here and used other people's captured gameplay as b-roll. I regret doing this and simply wasn't thinking. It's not something I'll do again. Going forward, I'll capture my own gameplay footage or use officially released b-roll from the games themselves. Here are the accounts that I lifted footage from…
I really frown upon this practice from content creators on YouTube, so I hate that I fell into this trap myself. Never again!
More episodes…