Gears Tactics
Splash Damage | Lead Level Designer
A little background…
Following the release of Star Citizen 2.6 I sought a new challenge and joined Splash Damage. The studio was of great interest to me, as it's roots were deeply embedded in the modding scene; a background that I also share.
I started work at Splash Damage as a Senior Level Designer on the Gears Tactics vertical slice before moving into the Lead Level Designer role a little into full production.
Release Date
28 April 2020
Platforms
PC, Xbox One, Xbox Series X|S
Gears Tactics is a turn-based tactical take on the Gears of War franchise. I've closely followed the Gears series since it began back in 2006 (I'm even a big fan of the board game), so being a part of this project was an awesome opportunity for me.
Responsibilities
Leading a team of level designers to build levels for a single player campaign

Responsible for the quality of the game's campaign throughout development
Running a multi-discipline feature team to maintain project alignment across teams

Building level and mission content from blockout through to final

Mentoring and training of junior level designers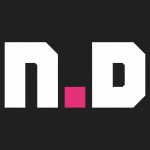 My core responsibility on Gears Tactics was to lead the level design team in delivering a dynamic, single player campaign that would support multiple playthroughs and player types. I managed the team's workload and directed the level design team's focus within publisher milestones.
I was also responsible for the running of the missions team, a multi-discipline team comprised of art, narrative and design. The purpose of this team was to offer a channel of communication, provide common goals, and to maintain alignment across disciplines.
Initially my role consisted of exploring level design within the turn-based tactics genre. This took the form of blockout experiments, testing varying forms and scale to determine what best supported the desired combat loop.

As gameplay systems matured, exploration progressed into defining metrics to guide level production (see above). The bulk of mechanic and content exploration was addressed within the early stages of production during the completion of the vertical slice.
The Vertical Slice
My work on the vertical slice was to bring a fresh perspective to the initial level blockout (created before my being hiring). I was tasked with taking the level from the existing prototype phase through to a testable and then presentable state.
I began fleshing out the level by splitting the gameplay into a series of sequential beats, each with their own theme, i.e. close quarters, long range, rush, etc. Themes within these beats were built to encourage specific gameplay styles in order to offer a diverse range of player challenges and help each moment feel both identifiable and memorable. This was achieved through a mix of architecture, enemy placement and a curated roster of enemy archetypes.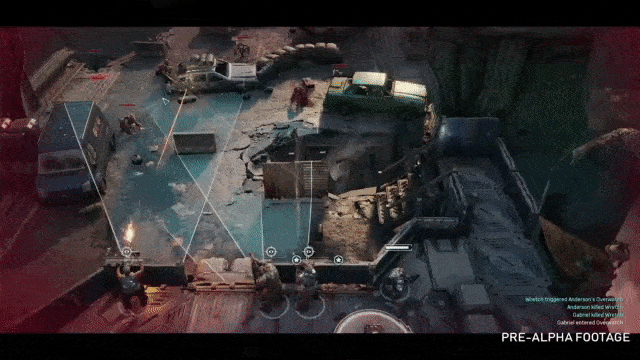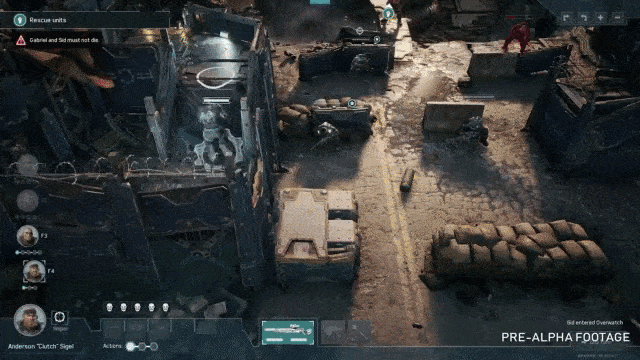 As encounter design developed, I introduced several points of verticality; some favoured the player, by providing a vantage point for their sniper, and others that presented the player with a challenge favouring enemy placement and archetypes. Another aspect that I added to the level was to include breathers (known within the Gears series as "guitar strings"). This is where a guitar riff plays over the soundtrack following the elimination of the final threat in an area; thus signifying a moment of downtime from the action. This allowed the player the opportunity to gather their units and take stock.
In addition to the bespoke campaign level, the vertical slice also included a number of "remix maps". These were created in order to test the semi procedural levels and explore more diverse layouts. Perhaps the most important layout explorations were to test the limits of the game camera; for example, it was clear early into investigations that multiple floors (specifically floors above floors) should be discouraged in order to maintain tactical clarity for the player (due to the elevated camera).
The Gears Tactics vertical slice was the strongest and most polished playable prototype that I've worked on in my career. Internally it was so well received that it was used to reveal the game to the public at E3 2018 (seen above). The vertical slice level was then adjusted and reworked into a mission to close the game's first act, and was used as a quality benchmark for the rest of the campaign.
The Campaign
When it came to building the campaign for Gears Tactics, I took a 'lead by example' approach. The majority of my hands-on work was during the prototype stages of each batch of new content, such as the creation of an additional biome or new mission archetypes.
I began by working with a number of other disciplines within the missions team, such as narrative, concept and art in order to ascertain a brief. From there I began building templates and level patterns as a base for the level designers to build from and improve upon.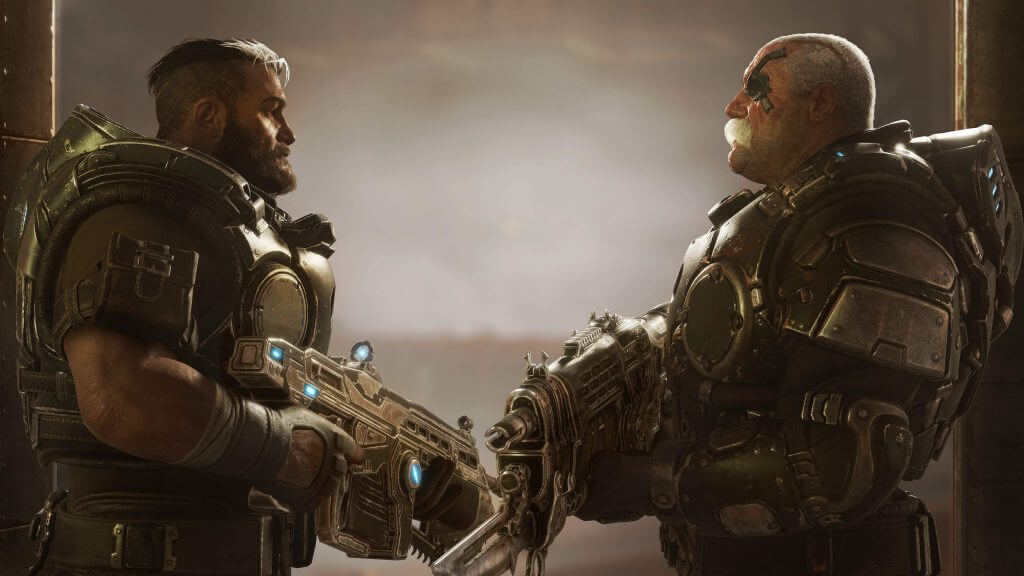 Every new biome required extensive testing and blockout explorations, so as additional content was required, my involvement became higher and higher level to better support the level design team.
Levels in Gears Tactics weren't built using conventional methods, but rather semi-procedural collections of gameplay tiles. If you would like to learn more about the level design process (regarding tiles and levels), this was outlined in a rather excellent Splash Damage Blocktober post.
In the latter phase of development I was responsible for reviewing, providing feedback and signing off levels and missions created by the level design team. In addition to this I also designed and implemented a number of campaign levels as well as a series of side missions.
Levels
"Zero Hour"
"Left Behind"
"On The Trail"
"Into The Fire"
"Taking Stock"
"Cover of Darkness"
"Finders Keepers"
…and roughly 10 side missions across the campaign!
Some of my gameplay tiles were featured in a Gears Tactics Art Blast on ArtStation.
Gears Tactics was released to positive reviews, and remains my proudest professional achievement.
Further Reading…